Trevor Dunn
---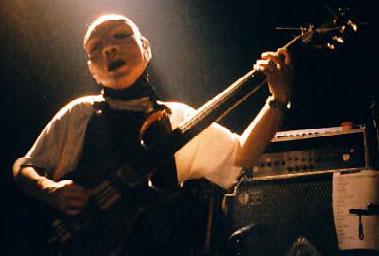 Mr. Bungle's founding and present bassist, Trevor Dunn, born January 30, 1968, is a great bassist and displays it well on Mr. Bungle's demos and albums. Trevor and vocalist Michael Patton, who used to be in a defunct band called Turd, quit and created Mr. Bungle. Dunn's bass is quite evident and bouncy at times, like on "Sleep II: Carry Stress In The Jaw."
Trevor Dunn has also worked with other musicians, like Graham Connah and William Winant, John Zorn, Secret Chiefs 3, Fantômas, and too many others to mention. Currently, Dunn works in the SF Bay Area in countless jazz projects and some orchestras.
He also has his own trio-convulsant, Trevor Dunn's Trio-Convulsant, with Adam Levy on guitar, New York session drummer Kenny Wolleson, and Dunn on bass. It's a really complicated jazz record, proving that Dunn is a crucial part to Mr. Bungle's writing approach.
CURRENT PROJECTS
Fantômas: Work on new (third) record has begun.
FUTURE PROJECTS
Trevor Dunn's Trio-Convulsant: He mentioned in an interview that his solo work is a serious band, so expect more releases and even a tour in the future.