the Side Projects
---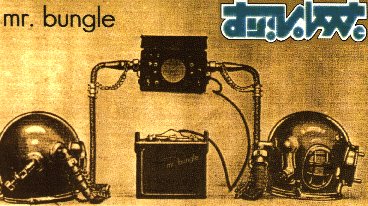 APOKATASTASIS: An opera, which Trey has been working on for a long time. It will be completed in a few years, hopefully.
BON LARVIS BAND: "Boogie Woogie Down 'n Dirty Whorehouse Blues!" Trey and the cripples in Faxed Head are the Faxed Head-hating Bon Larvis Band.
DIESELHED: From San Fran, Dieselhed features Danny Heifetz on drums. A now defunct country/punk band.
FAXED HEAD: A black metal band featuring Gregg Turkington (Neil Hamburger and Amarillo owner) and Trey Spruance (as Neck Head) playing guitar & writing most of the composition.
FAITH NO MORE: Everybody knows FNM. Mike Patton joined them in 1988 and sung for them for ten years until they broke up.
FANTÔMAS: Featuring Michael Patton and Trevor Dunn alongside with Dave Lombardo (drums, formerly of Slayer and Grip Inc.) and Buzz Osbourne (guitar, Melvins). First release on Mike's label, Ipecac.
FORMS: A new carnival/organ sounding project between Trey and world-class percussionist William Winant.
HOLY VEHM: Another one of Trey Spruance's projects, a black/death metal and techno influenced project. Release sometime in the future.
IPECAC RECORDINGS: Mike Patton and manager Greg Werckman (Mr. Bungle, Fantomas, DUH, Jello Biafra) formed their own label, with distribution from Caroline Distribution.
MALDOROR: A Japanese-noise project involving Patton and Merzbow (Masami Akita, electronics).
MIMICRY RECORDINGS: Trey Spruance's label, with the help of Revolver USA.
MIKE PATTON: Mike has gone solo, releasing two very experimental albums (on Tzadik, John Zorn's label).
PEEPING TOM: A pop project which will be unavoidable by radio.
SECRET CHIEFS 3: Featuring Trey, Danny, Bär, and Trevor.
TREVOR DUNN'S TRIO-CONVULSANT: Trevor Dunn's solo project after many years of experience as a session bassist.
TOMAHAWK: Rock group featuring Mike Patton, Kevin Rutmanis (Melvins, bass), John Stanier (ex-Helmet drummer), and Duane Denison (ex-Jesus Lizard guitarist).
WEIRD LITTLE BOY: Described by Trey as "a piece of shit" - so don't buy it, unless you need to burn your money. Musicians on this jam session are Mike, Trey, John Zorn, Chris Cochrane, and William Winant. CD was originally released in Japan only on Zorn's Avant Records.
JOHN ZORN: Legendary alto sax avant-garde/jazz musician who produced Bungle's debut. You have to hear him!